Donna Joy's ® Sedona Sweet Arts
Custom Wedding Cakes | Artisan Baking Mixes | Handcrafted Cookies & Biscotti
Living Loving Creating Handcrafted Custom Wedding Cake. Pastry Chef Donna Joy is by appointment only creating custom on of a kind Sedona Wedding Cakes in the theme, colors, style and design you dream of. 928-282-4635
Wedding cake contact link is here
Tuscan Affordable Wedding Cakes
Pastry Chef Donna Joy has been professionally baking, creating Sedona Sweet Arts for over 25 years. She custom creates each and every one of her cakes today to fit the couples needs of design, accents, flavors and dietary needs.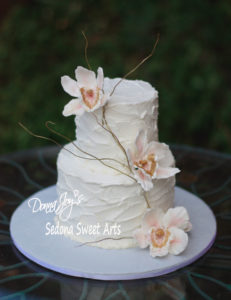 Custom Sculpted Sugar Orchids custom created by Pastry Chef Donna Joy ~ Sedona Sweet Arts. "Stormy Love Buttercream"
Donna Joy has created thousand of cakes, her website for wedding cakes is
Sedona Wedding Cakes & Sedona Sweet Arts. Our Facebook Page also has many images for viewing. Please like us here.
Currently Pastry Chef Donna Joy creates all her custom cakes by appointment only. This allows her to target relax and enjoy the Sweet arts!
Having a tasty cake, fitting in to an more affordable price point is achievable with the custom sugar art of Tuscan Buttercream or naked cakes.
Tuscan cakes or textured buttercream can be done in many patterns. Cakes can be done in Classic Buttercream, Chocolate buttercream Ganache, Vegan-Buttercream.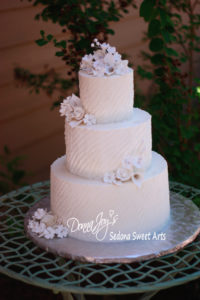 Buttercream Wedding Cake angled texture with hand sculpted sugar flowers by Donna Joy ~Sedona Sweet Arts. "Angled buttercream"
Tuscan Patterns:
Ribbed Chic Tuscan Buttercream
"Stormy Love" Tuscan
Angled buttercream
Vertical Lines of Love
Waves of Buttercream
Naked
Semi Naked
Piped Buttercream are also an affordable textured method for creating beautiful and affordable gourmet wedding cakes.
Chic Ribbed Tuscan Buttercream Wedding Cakes
Chic ribbed Tuscan Buttercream can be done in many themes and flavors to fit your wedding.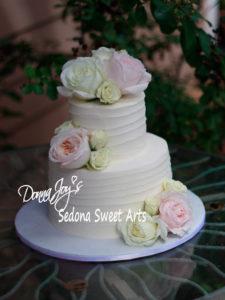 Chic ribbed Tuscan wedding cake adorned with fresh flowers. DonnaJoy ~ Sedona Sweet Arts. Ribbed Chic Tuscan Buttercream
Donna Joy's Gallery Cakes
Buttercream Gallery of textured Wedding Cakes textured Buttercream Wedding Cake by Donna Joy ~ Sedona Sweet Arts.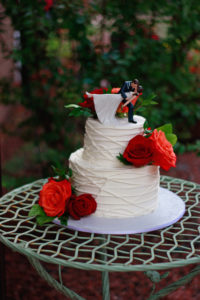 Strings Buttercream Wedding Cake created by Pastry Chef Donna Joy ~ Sedona Sweet Arts
Sedona Wedding Cakes Galleries
Featuring thousands of cake art created by Pastry Chef Donna Joy is hosted :
Sedona Wedding Cakes Galleries
Wedding Cake Features,Tutorials & Galleries
Features on Sedona Wedding Cake
Sedona Wedding Cake Features on Sedona Sweet Arts
Sedona Wedding Cake Features on Donna Joy's
Sedona Sweet Arts
Donna Joy's ®
Starry Night, Cosmic Love, Star Galaxy Themed Weddin

g Cakes.
Cosmic Love Wedding Cake was created a a Beautiful Sedona Bride.
Custom created Gluten Free Wedding cake in a Comic Love Theme. Starry night, fondant stars and a topper handcrafted in moon & star. Gold, silver, prples and blues. The cake was airbrushed and handpainted to create the galaxy look. This cake was made in Gluten Free using Donna Joy's® Baking Mixes. They are extremely easy to use and can be purchased on Donna Joy's website

https://donnajoys.com/product/gluten-free-white-velvet-gluten-free-cake-mix/
Custom Created Star wedding Cake by Donna Joy Sedona Sweet Arts

Created for an astromer this orginal design has been copied and posted all over the web before a watermark was placed on photo. Donna Joy's orginal design inspired brides and cake artists all over the world.
Are you dreaming of a themed Wedding Cake? (928) 282- 4635
Sedona Sweet Arts
Donna Joy's ®
Sedona Wedding Cakes

Sedona Wedding Cakes with handsculpted sugar flowers by Pastry Chef Donna Joy of Sedona Sweet Arts. These sugar flowers have been tried to copy but the Art of crafting them is a process. Want to learn how? Stay tune for Donna Joy's classes. Coming soon.

Sedona Wedding Cakes with handsculpted sugar flowers by Pastry Chef Donna Joy of Sedona Sweet Arts.
After 24 years of running a full service Bakery & Café I am blessed to be able to focus in on the things I love the best, balancing work and play. I do all of our Wedding Cakes custom on a first come first serve basis in a boutique artisan certified commercial kitchen by appointment only. I service preferred limited locations that fit in with my schedule. I love doing all types of cakes from simple to over the top.
My work has been featured in People and Brides magazines as well as TV and movies. Here are three online links to see my work.
www.SedonaWeddingCakes.com http://www.facebook.com/SedonaSweetArts https://www.SedonaSweetArts.com
If you can provide some more information about you and your wedding then I can check my calendar to ensure availability. Below is a Wedding Inquiry Questionnaire - Cake form. If you can complete and return to donna@sedonaweddingscakes.com (928) 282-4635
Name-
Phone Number-
Wedding Date-
Referred by-
Wedding Reception site- Room or sub area-
Caterer- Coordinator-
Start Time-
Guest Count-
Save the top tier-
Prefer Tiers-
Color Themes-
Flower Types-
Are you looking for Fresh or Sugar Flowers-
If fresh Florist name-
All fresh flowers must be delivered to Donna Joy so she can secure them to the cake in a food grade manner. No toxic plants or flowers will be used. Any items that we are unsure will be used.
Overall cake- dessert idea-
Style-
Changes to Style-
Preferred cake flavor / filling
Preferred cake frosting-
Anything else-
Price point (your budget or price you like to keep cake in) I can make suggestions based on your range.
I am looking forward to hearing more about your big day.
Thank you,